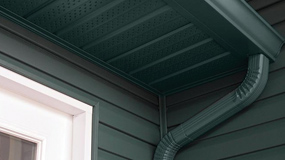 The soffit is a little understood component of your home's exterior protection system. Without it the rafters that comprise the framework of your roof would be exposed to the elements and your entire house would rot from the inside out. Because so few people are aware of what soffits are and what they do it's none-too-difficult for unscrupulous contractors to burn customers on soffit installation projects. In this post we'll talk a bit about what the soffit does and how to avoid getting ripped off when it comes to their installation.
The Importance of Proper Soffit Installation
Soffits are important to the overall health of your home for a number of reasons including:
Protection from the elements: Without soffits the entire upper portion of your home would be exposed to the elements. Soffits prevent rain, snow, sleet and windborne debris from infiltrating your home's framework and wreaking havoc. In severe climate areas like Milton, Oakville, Burlington and Toronto that's particularly important.
Protection from infestations: Soffits defend your home from raccoons, squirrels, hornets, birds and other forms of infestation. These critters spend a great deal of time looking for safe, dry places to call home. Without soffits word would get out quickly that your home is just such a safe haven. Damaged soffits can also lay out the welcome mat for pests.
Ventilation: Proper ventilation is important for the upper part of your home. Good air circulation allows the home to breathe and keeps destructive, moist air moving rather than stagnating and causing mold and rot. If there is no other form of ventilation in your attic you'll need vents in the soffits to provide that important ventilation.
Soffit Scams
As mentioned unscrupulous contractors will often take advantage of a homeowner's limited awareness of just what soffits are and how they work. Some of the ways they'll do this include:
Unneeded replacement: Some contractors looking to make a quick buck will come to you during an eavestrough installation and tell you you need to have your soffits replaced as well. They'll spin tales of doom and gloom hoping you'll sign up for something you don't need. It's a good idea before you have any work done on or around the gutters to make a visual survey of the soffits.
Incredible deals: If someone provides a bid for soffit installation that's way below every other bid be wary and ask yourself "Where are the savings coming from?" Since labour is the contractor's largest expense the savings will likely come in the form of rushed, shoddy workmanship. Corners will be hastily fabricated, match poorly and contain gaps. Nails won't be properly countersunk. If the soffits are wide they may not bother to install a necessary centre support strip.
Second rate materials: Another place unscrupulous contractors will cut corners is in the quality of the soffit material. Aluminum soffits are typically your best bet but they're available in a variety of gauges. Discount installers will go straight for the cheapest, lightest gauge aluminum they can get their hands on. These lighter gauge soffits will be more susceptible to dings and dents during installation and won't last as long.
Lots of companies promise great deals on soffit installation but if the materials used are second-rate, the work rushed and the company unavailable to correct their mistakes a great deal turns out to be no deal at all. The best way to ensure you're getting a good deal on your soffit installation is to partner with a company that has a proven track record of quality work at affordable prices. In Milton, Oakville, Burlington and Toronto that company is Alliance Trust Aluminum.