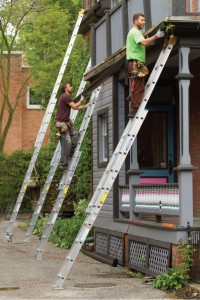 The importance of your home's siding cannot be overlooked, as it is an important feature of the property that is responsible for both insulating your home (keeping you warm in the winter months and cool in the summer) and protecting it from the damaging effects that the weather can have. Simply put, if your home didn't have well maintained siding, your living space would be uncomfortable to live in and the wear and tear of your property would be greatly accelerated. A siding installation can also have a significant impact upon the appearance of any property due to it covering almost all of the exterior area. Since 2008, Alliance Trust Aluminum Inc. has been completing siding installation work in Milton, Burlington and Oakville to an exceptional standard and has built a reputation that our competitors are envious of.
A Siding Installation from Alliance Trust Aluminum Inc. is the Ideal Solution
In terms of home improvements there are so many contractors operating in the area nowadays that it can be difficult to know where to turn, but we would strongly advise you pick up the phone and get in touch with Alliance Trust Aluminum Inc. if you are in need of a siding installation. Here's why:
Long Lasting – Return on investment and long term value are two factors that must be considered when committing to a siding installation and our tailored solutions offer you both. Due to a combination of high quality materials and flawless installation, our siding solutions make your home a more attractive proposition and typically keep the elements at bay for years before showing signs of wear.
Diverse Range of Options – As mentioned, when investing in a siding installation it's not just the performance side of things that you've got to think about; you also need to think about how it will fit in with the style of your house, the surrounding area and other elements of your home's design. Alliance Trust Aluminum Inc. has one of the most comprehensive ranges of siding products in Ontario, meaning you're almost guaranteed to find the perfect solution for your home.
Energy Efficient – Our siding installation options utilize a specially designed type of foam insulation that improves the R-value, makes them almost twice as effective at keeping noise out and allows them to resist impacts much better than traditional siding materials.
We serve Milton, Burlington and Oakville, and offer a free onsite evaluation to assess the style and layout of your home, as well as answer any questions that you have. We also offer seamless eavestrough installation and soffit and fascia installation.
If you need a new siding installation in Oakville & Burlington, don't hesitate to contact us.