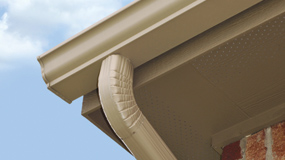 It's just one of those facts about house ownership that we accept – fascias need to be kept in good condition, not only for the sake of the outward appearance of the house, but to protect the house as a whole from suffering. Proper fascia installation and regular maintenance work such as checking for damage, especially after the kind of severe weather we get in Toronto, can go a long way to giving them as long a life as possible. At some point, however, it is going to become clear that their time is up and they will need to be replaced.
Waiting as Long as Possible for a New Fascia Installation Could Be Disastrous
In many ways it seems natural to allow a product to come to the end of its life before replacing it. With fascias, unfortunately, it doesn't work like that. The amount of damage that can potentially affect your house when your fascias even begin to look worn and weary, could be many times more than the cost of having a new fascia installation. It's simply not worth risking, and here's why:
You Have Begun to Share Your Home with Other Families – In this case, not human, but more than likely, birds and even bats. Birds very often build their nests in the roofing and supporting areas of homes – if you have been neglecting care of your roofing and gutters, you may find that there are already nests there. This will only accelerate the deterioration of the fascias, but it's a very delicate task to move a birds' nest and you will probably need professional help with it. From time to time, protected birds have been known to nest in places like Milton, Oakville and Burlington. In the case of protected species, you could be breaking the law if you do anything to the nest at all without approval.
It's Not Only Birds that Appreciate dying Fascias – If you've allowed your fascias to start to rot, they will attract many different types of insects who have all kinds of uses for rotting wood. These insects will, in turn, attract larger pests who feed on them. Perhaps most worrying is the fact that many rodents, including rats are attracted to damp and rotting places such as worn-out fascias.
Once it Sets in, Rot is Tough to Stop – If you have allowed rot to set into your fascias, it is only a matter of time until it spreads to other places – most likely that will be other parts of the roofing. Don't let the situation get so bad that you need to replace your entire roof. In fact, don't let your fascias rot at all – get a new fascia installation straight away to avoid the problem even becoming a possibility.
In Old Homes, Asbestos Can Be a Serious Health Hazard – These days, asbestos is not used in home construction. But if your home is over 25 years old, there's a good chance that asbestos was used in its construction. Fascias and especially soffits were often made with asbestos due to its fire-resistant properties. If you allow these parts of your home to deteriorate sufficiently, you could unknowingly cause a serious health hazard – asbestos is a known carcinogen. If you happen to know that you have asbestos in your home, you should seek professional help when it comes to removing it.
As mentioned, there are ways to reduce the risk of damage – regular cleaning, sanding down and repainting all help, but the fact remains that, eventually, your fascias will need replacing. When that time comes, arrange to have a new fascia installation rather than risk a much bigger headache.