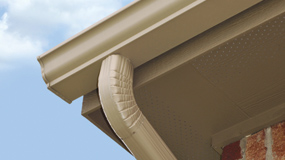 When your fascia installation starts to look dirty or a little bit worn, sometimes a few licks of paint will be enough to restore the outward appearance of your house back to respectability. There will, however, come a time when your fascias have put up with so much from the elements, animals and so on, that they need to be replaced or repaired. As most people will probably only face this situation a handful of times in their lives – at most – it's difficult to know whether your boards can be repaired, or whether it's time to get a new fascia installation.
How Do You Know If You Need a New Fascia Installation?
If you take a look around homes in your area, whether that be Milton, Oakville, Burlington or anywhere in the Toronto area, you'll see fascia installations in a variety of conditions – from brand new to rotting and decrepit. The key is knowing when, and how, to stop your installation from becoming like the latter. You'll also probably see a number of quick fixes that should really have been full installations. Here are some tips to help you figure out what to do:
If Your Fascias Just Need Painting – If you're tired of having to climb up ladders in order to keep your fascias looking fresh, you could benefit from simple cladding. Modern boards tend to last longer than old ones and need much less maintenance. However, you'll need to have your existing boards inspected to make sure they are not rotting or infested.
If You Find Small Areas of Rot – It is important to check every area of your fascias for rot – it's not enough to simply look up at them and make a judgement. If you do find rot, it doesn't automatically mean that you need an entirely new installation. It does mean that you can't clad over it, though. If you find small areas of rot, you might want to simply cut them out and replace them with new timber. Once that is done, you can go ahead with cladding.
If Your Boards Are Rotting – If you've found larger areas of rot on your boards, the safest and most sensible option is to go with a whole new fascia installation. It's simply not worth carrying out a number of timber replacements, as this can damage the strength of the structure. It's also not worth the risk of missing any areas of rot, which will end up spreading under any new cladding. A new installation eliminates these risks and will likely last longer than your original fascias.
If There Is Limited Rot, But It Is Due to Structural Issues – Quite often, rot is caused by a structural issue related to the boards themselves. Your fascias might extend out from under the roof tiles, meaning they have a high chance of rotting. Simply cladding over these boards doesn't remove the likelihood that they will eventually rot. In these cases, it's best to have a complete installation made, to new specifications, which don't carry the risk of rotting later on.
The most important thing is to be sure that any rot – including potential rot — is eliminated from your fascias. To do this you need to have a clear view of their condition when you decide to go with cladding or entirely new fascias. So before you decide on a course of action, make sure you have thoroughly checked for any rot or exposed timber. Don't be afraid of seeking a second opinion, either. There are, unfortunately, a number of rogue tradesmen who will try to make a quick buck by cladding over boards which really need fully replacing.