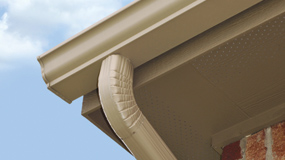 Some of the biggest hazards faced by gutters and downspouts in the Toronto area are caused by cold weather. Perhaps the most serious of these occur when they become blocked with ice. This can often damage their structural integrity and increase their mass, causing further damage to the home. Once an eavestrough installation is blocked, it can easily lead to flooding and other major problems. Regrettably, there is no easy fix for gutters and downspouts that are blocked up with ice.
Think Before You Act When You Discover a Blocked Eavestrough Installation
Despite the inevitable frustration you will feel upon finding an iced-up gutter or downspout, you'll need to resist the urge to find a sledgehammer solution to the problem. Such an approach will invariably make things worse. Trying to find a quick home-made remedy to this kind of problem usually results in more damage being done than if you hadn't lifted a finger. The arrival of spring in towns like Milton, Burlington and Oakville often sees people digging deep for professional repairs and lamenting their carelessness. To avoid becoming one of them, be aware of the following:
Leave the Axe in the Garage – No matter how natural it seems to try to chip the ice away using an axe or a pick, and no matter how careful and skillful you believe yourself to be, this is usually a recipe for disaster. Ice can be tough to shift and you'll have to put your back into it to make any progress. Even catching the surface of the gutter or downspout can result in its destruction. The ice is tough to shift, but it is very easy to smash your eavestrough installation with an axe or a pick.
Don't Try to Melt the Ice by Yourself – While this approach admittedly seems smarter than using brute force to fix the problem, it is likely to be ineffective and could still have damaging results. Attempting to melt the ice with salt and other substances, will lead to an increase in volume and further flooding. It is likely that your drains will remain full and simply refreeze the following night.
Don't Hire Uninsured Cowboys – Choosing to go with a professional is a good option, but you must beware of the many cowboys floating around in the winter months. They will tell you that they are insured and offer to clear the ice from your eavestrough installation at what seems like a good price. If things go wrong, however (as they often do with cowboys) – you're going to have to pick up the bill when you find they have vanished and didn't have cover in the first place. Always ask to see insurance documents.
Avoiding these three courses of action could mean you dodge a second bullet when spring comes around. But is there a way for you to dodge the first bullet in the first place? As it turns out, there is: At the end of fall, when the last leaves have fallen from the trees, you should make sure your eavestrough installation is cleaned thoroughly. Debris in drains freezes and prevents water from passing through. Once that happens, thawing becomes very difficult. No matter where you live, ensuring your drains are cleaned professionally at least twice a year, is the best way to prevent ice blockages, flooding and damage in the winter.
If it's too late for that, make sure you choose a reputable tradesperson to deal with the emergency. Check their licensing and insurance – including workers' compensation. If they cause an injury, you don't want to be held liable.