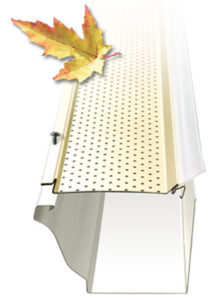 Eavestroughs are a bit like tyres on a car. Nobody gives them much thought until they fail. But waiting for your eavestroughs to come crashing to the ground before you replace them is like waiting for a bald tyre to blow while you're driving. In both cases it is worth your while to take care of the problem before it becomes critical or causes a cascade of other problems that will require expensive fixes themselves. Whether you live in Milton, Burlington, Oakville or anywhere else in the Greater Toronto Area, a new eavestrough installation is essential home maintenance and below we'll give you 7 reasons why.
New Eavestrough Installation is not a Luxury, It's a Necessity
Eavestroughs are one of the home's most critical elements. If yours are in need of replacement there's no excuse for putting it off. A new eavestrough installation will:
Help Prevent Basement Flooding: When water from the roof spills out of the eavestrough and lands next to the foundation it penetrates the soil and puts hydrostatic pressure on the exterior of the foundation. Foundations are strong but relentless hydrostatic pressure will find a way through and basement flooding will become your new normal.
Keep Your Foundation Stable: One of the most important side effects of keeping water out of the basement is that the foundation will not be undermined. This is crucial to the overall wellbeing of your home. If too much water penetrates the ground around the foundation that ground will begin to subside. When that happens your home begins to settle, often unevenly.
Provide Instant Curb Appeal: Most homeowners don't think about the visual impact of eavestroughs until they break down, clog or start to come loose. Nothing says 'rundown' quite like the sight of water spilling out of eavestroughs that are hanging at an odd angle. A new eavestrough installation will provide your home with an immediate jolt of curb appeal.
Prevent Other Problems: New eavestroughs will also help save the flower beds around your house, prevent rot in the fascia, prevent water intrusion into the attic and exterior walls, prevent the growth of potentially harmful molds in your basement and make sure rainwater is properly drained from your property.
Require Minimal Maintenance: While you may spend quite a bit of time and money propping up your old eavestroughs so that they're in the right place and performing their job properly, new eavestroughs will be largely maintenance free; especially if you install gutter guards to keep leaves and other debris from causing backups.
Make It Easier to Sell Your Home: Putting your home on the market with old, barely functioning eavestroughs is asking for a 'no sale'. Conversely, replacing your old eavestroughs before hanging the 'for sale' sign out front will make it much more likely you close the deal in a timely fashion.
Help Keep Pests From Moving In: People with squirrel or raccoon infestations in their attic commonly discover they got there through a fascia compromised by the eavestrough. Either water overflowing the eavestrough weakened the fascia making it easy for pests to claw through the wood or the eavestrough pulled away from the fascia leaving a hole that could be exploited. Either way a new eavestrough installation will prevent this happening.
Replacing old malfunctioning eavestroughs is as important as changing the oil on your car. You might get away with ignoring it for a while. But more likely you'll set in motion other problems that will require expensive fixes in the future. Don't gamble with the value of your home. Call Alliance Trust Aluminum today and talk to one of our helpful pros about new eavestrough installation.