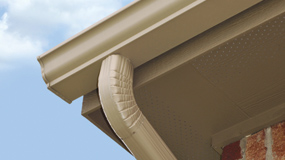 The fascia (the word is Latin for "band" or "swath") is one of the most important but least recognized elements of your roofing system. Every time you look at a typical house you see fascia although most people are unaware what it is and why it's so important. The job of the fascia is to act as a cap that runs around the edge of the roof sealing it from both the elements and pests and providing a pleasing visual aspect as well. Because it's so little understood it's also one of the components of a house that is most likely to be ignored until something happens to draw attention to it. In this post we'll look at how ignoring problems with the fascia can impact the cost of new fascia installation.
 The High Cost of Delaying Fascia Installation
Sometimes homeowners are late in fixing problems with the fascia because they were unaware there was a problem. Other times they were aware of the problem but didn't think something so innocuous looking could pose any type of significant risk to the health and value of their home. In either case the price of delaying fascia repair or installation can be startling. Here are some of the extra things you may wind up paying for if you delay new fascia installation.
Roof damage: Moisture has a way of disrespecting gravity. If the fascia is compromised and moisture is allowed to penetrate for any period of time that moisture will gravitate up into the roof itself and begin eating away at the wooden beams and roof deck that underlies the shingles. When enough rot has taken hold you'll wind up having to repair a good portion of your roof when you finally get around to installing the new fascia.
Pest infestations: No one replacing old fascia is going to simply absorb the cost of rooting out a raccoon or squirrel infestation as well. You'll likely need to call a specialist to come and take care of that for you. If, however, you take care to replace the fascia before it rots through – or is clawed through by pests determined to find a warm, dry place to call home – you'll wind up saving a lot of money.
Damage to the soffit: One of the most common results of delaying new fascia installation is that the elements penetrate and begin to work away at the soffit, which may have been in otherwise perfectly fine shape. If you notice black spots on the underside of the soffit that typically means you have water intrusion which is likely coming from a rotten or otherwise compromised fascia and you'll need to replace that soffit too.
Damage to the home's electrical system: The fascia's most important job is to keep moisture out of the house. If the fascia is damaged and rain and snow are getting in given enough time this moisture will find its way down the exterior walls of the home where it can engage in all manner of mischief including causing water damage to drywall and interfering with the home's electrical system. Short circuits are not uncommon as a result but things can get more serious than that as well and require expensive repairs.
Whether you live in Oakville, Milton, Burlington or Toronto, the importance of recognizing and acting to fix issues with the fascia on your home is the same. By letting problems fester you are pretty much guaranteeing that when you do finally have a fascia installation performed you will need to conduct additional repairs at the same time that will significantly increase the cost of the project. Call Alliance Trust Aluminum Inc. today!