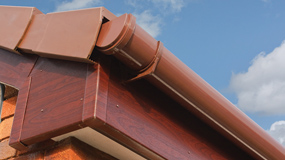 A typical soffit installation is made of the same material as the sidings of the eaves – often wood – and completely covers the bottom of the eaves. In older buildings the soffits may allow for ventilation in order to improve the circulation of air in the roof, although this design has become less popular of late. Soffits, fascias and eaves are terms which are often used interchangeably, but to be specific, the soffit is the part you can see when you stand under the installation and look directly up. This position means that, in many ways, the soffit is less likely to suffer from weather damage than, say, the fascia or the roofing. That doesn't mean, however, that the soffit is invulnerable.
What Kind of Things Can Go Wrong with Your Soffit Installation?
The soffits might not be the most obvious place for most people to look when looking for damage to the roof. Perhaps surprisingly, however, your soffit installation is likely to be the start point of any rot that starts in your roofing. In addition to this, it is highly vulnerable to water damage and mould. This water can stay on the soffit for long periods and lead to rot. All of this can lead to various types of damage, along with other factors. Some of the most common to look out for, include:
Damage Caused By Animals – Soffits have a special kind of appeal for a wide variety of wildlife. You may find damage caused by rodents, such as squirrels, looking to gather food. Birds may decide to make their visit more permanent, viewing your soffits as ideal places to build their own homes – beware of disturbing the nests of birds – many species are protected by law. Other creatures to look out for include bees, rats, bats, raccoons and mice. All of these could cause serious damage to your soffit installation and pose health and fire hazards.
Ice Dams and Flooding – If you have icicles hanging from your roof, there is a good chance that an ice dam is building up. These are usually caused by the buildup of snow, which melts under the surface and runs down into the gutters. This water freezes and forms a dam, preventing drainage and causing internal flooding in your house. Unsurprisingly, this is a common occurrence after a Toronto The correct way to prevent this, is to address any heat loss issues your home may have. Ensure your roofing is properly sealed – it's always best to have a professional do this, as it can be dangerous work.
A Damaged or Blocked Gutter – This is perhaps the most common cause of water building up on the soffits and causing rot. You're asking for trouble if you don't regularly check your gutters for damage and ensure that they are cleaned properly. Neglecting to do this often means fallen leaves end up freezing and obstructing the passage of water, thus causing flooding to happen.
If you notice the soffit coming away from the eave or showing signs of rot, there is a good chance that the damage has spread to the underlying structure. Carrying out repairs can be tricky and is a job that is best entrusted to professionals. Whether you live in Milton, Oakville, Burlington or another town, you should try to find the most experienced tradesman you can to deal with it. Handymen and siding companies might not be equipped to deal with replacing rotten material in your soffit installation. Be sure to hire a contractor who is fully licensed and insured.